Posted by Builder-talk on 5th May 2021
Net Zero Energy Homes are becoming increasingly popular in New Zealand. As the cost of electricity in New Zealand continues to rise, without any apparent justification, New Zealanders are becoming resentful towards
Changes to the Building Code 2021 - Focus 'Energy Efficiency for Housing and Small Buildings'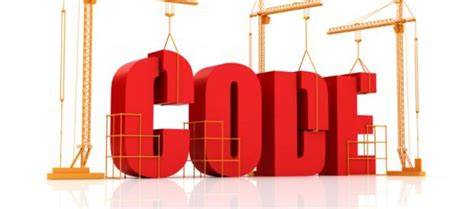 Building Code Update 2021 - Focus 'Energy Efficiency for housing and small buildings'
The Ministry of Business, Innovation & Employment (thankfully widely known as MBIE) regularly review the Building Code and the associated documents in order to keep up with the innovation within the industry.
MBIE states that its priorities during this review are focused on helping the industry provide "quality medium and high density housing" and "reducing carbon emissions and improving the ability of buildings to withstand the future effects of climate change". The are programs of work directly relating to these changes, being 'Building for Climate Change (BfCC) and 'Higher Density' (HD8).
As always climate change and reducing carbon emissions is a focus of Builder-talk Ecobob and we have been saying for a long time that legislative changes would be a way of forcing industry to improve. Is this the change we have been waiting for?
High density building is also about as topical as it gets with many twell sized sections being carved up into multi unit developments. The high level aim is obviously to meet the housing shortage, whilst offering developers to participate in a gold rush - some will strike gold and some will strike out!
It's good to see that as part of the HD8 program there is a focus on ensuring a good level of build, but this year seems to be primarily focused on clarifying natural light requirements. Whilst important, this would not initially be my concern - from memory, the requirements generally required natural light?
The BfCC program is also proposing some changes and claim the changes can be achieved without a large increase in cost. If true, this is good as the industry's first complaints about 'installing more insulation' for example, is cost. It also considers a change of thinking to have smaller footprints. This is already a reality when you look at the size of the multi unit developments that are being developed at the moment.
We will focus on a few of the reviews:
Energy Efficiency for housing and small buildings
Key Proposed Changes
Update the existing H1 Acceptable Solution.
Introduce new climate change zone maps (6 zones).
Review Insulation Levels for different building elements - focusing on Roof, Windows, Wall Insulation and Underfloor Insulation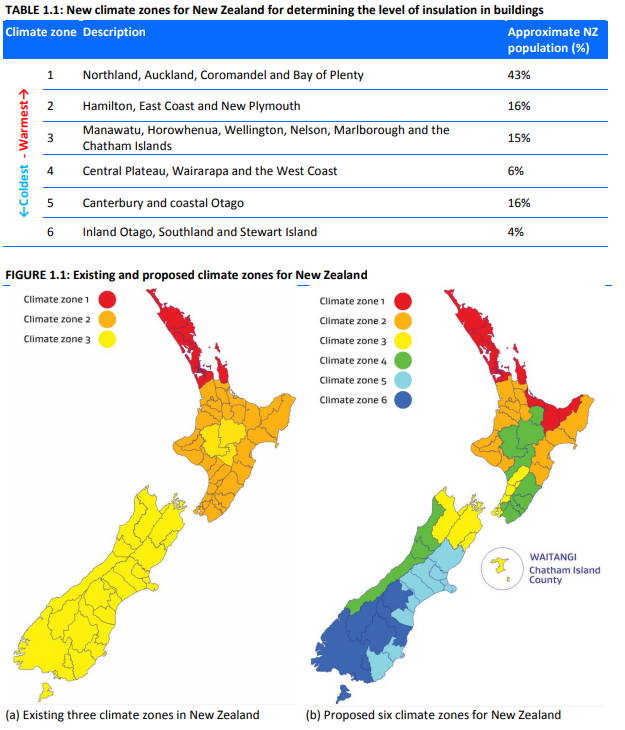 In the consultation documents there are some useful comparisons for each element for various levels of improvements and comparison with comparable climates.
For me, the most useful chart provides information on the potential energy savings against the investment. I'm not sure whether this takes into account the increased framing width, likely required to achieve the R value increase (for example). This would be even better if it could somehow extrapolate this information to let end users know their potential savings. As with many of these types of comparisons there are usually too many variables to provide reasonable estimates, but some real life examples would be good and if they show good savings could be easier to demonstrate return on investment.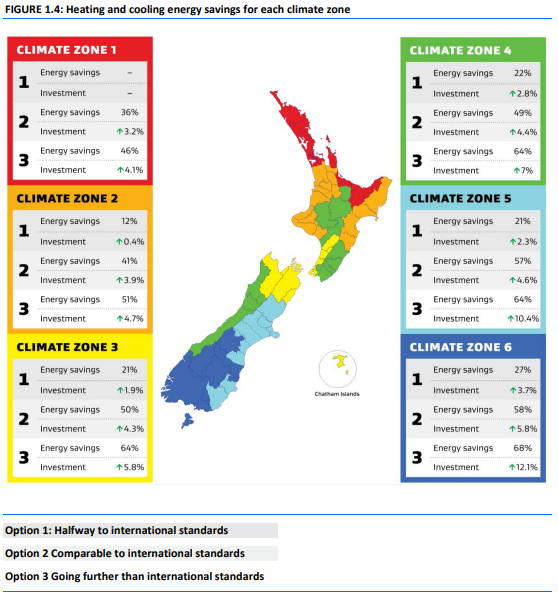 Roof Insulation
The 'status quo' is an R value between R2.9 and R3.3. Options for upgrades range up to R9.0! I'm not sure that's so realistic, but if the changes were to be this, the industry and thinking would have to change dramatically. The options vary for each of the climate zones, but taking this very simply, doubling of insulation would seem to be a minimum. For skillion or low pitch roofs, where space is just not available for just thicker insulation, fresher thinking and more efficient insulation materials will be required. Perhaps this type of problem/challenge is what the industry needs, giving the manufacturers a good shake up, making new opportunities in the market for other companies to exploit?
Windows
Current 'status quo' has an R value of R0.26. Options range between R0.26 and R0.76. MBIE acknowledge that achieving R0.76 with aluminium frames is not easy. That would be a difficult to persuade the industry, that has been very loyal to aluminium over the past few decades. from my experience, window joinery upgrades are also extremely expensive, for the least benefit. Usually there are more cost effective wins elsewhere.
Walls
Potentially up to R5.0? Even the R2.2-R2.8 options will require framing increase to 140mm, or presumably again, some dramatically different thinking!
Underfloor Insulation
Current 'status quo' has an R Value 1.3, with proposed changes up to R4.8. Easily improved as he existing R1.3 is basically un-insulated. In new builds, the floor slab is an area of easy improvement.
These are just our highlight nd takeaways form the first section of the review. There is lots more information available from the MBIE website. Get involved and have your say - Click the link