Posted by Builder-talk Ecobob on 28th Mar 2021
Whilst the NZ Building Code sets minimum building performance standards, there is a lot of room for improvement, along with opportunities to far exceed those standards. 'MAXRaft® makes it easier to maintain healthy room temperatures and reduce doctor bills'.

'MAXRaft® makes it easier to maintain healthy room temperatures and reduce doctor bills'.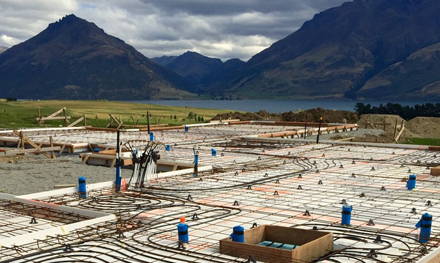 'MAXRaft® makes it easier to maintain healthy room temperatures and reduce doctor bills'.
Whilst the NZ Building Code sets minimum building performance standards, there is a lot of room for improvement, along with opportunities to far exceed those standards. The Building Code requires an R-value of 1.3, yet this doesn't even take into account insulating a floor. A lot of respiratory and other health issues are caused by the cold and damp environments that we live in.
The World Health Organisation recommends a minimum of 18°C for living areas and 16°C for bedrooms. 30% of New Zealand homes being built today don't meet these standards. MAXRaft, NZ's only fully insulated concrete slab company, believes too many New Zealanders live in unhealthy homes, and this needs to change.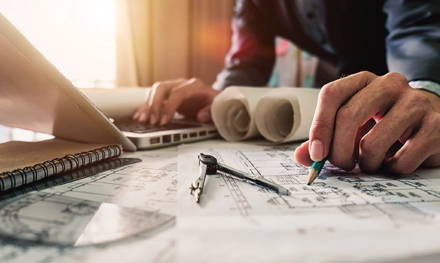 Homeowners are demanding better ways to build
As people have become more aware of the issues around unhealthy homes they're now demanding better building materials and practices to protect their investment in their property and themselves. This is not to mention the ever-increasing energy bills. A big part of creating a healthy and comfortable living environment is the insulation combined with higher quality, sustainable building materials. Healthy and sustainable home awareness has seen the rise of various certification programmes like Homestar, a comprehensive, independent national rating tool, run by the not-for-profit Green Building Council. It measures the health, warmth and efficiency of New Zealand houses. A home is rated on a scale from 6 to 10. These programmes set minimum standards to help architects and builders to meet certification levels and provide peace of mind to homeowners.
Heat is lost in more places than the roof
Heat loss in a home happens in a variety of different places. In an uninsulated home, 35% of heat is lost through the walls, 25% through the roof and 15% through windows, doors and the floor. This is why it makes sense to insulate the entirety of your home, especially if you want to remain comfortable, healthy and save on energy bills. One of the first things that kicks off the building process of your new home is the slab it sits on. But it's often the last consideration when trying to improve thermal efficiencies and home comforts. Whilst the slab is often out of sight, and therefore out of mind, it is actually the first place to consider when building an energy efficient home.
'Around 15% of your home's heat is lost through the slab the house sits on'.
"We used a MAXRaft slab because it is New Zealand's only fully insulated concrete slab and to us it seemed silly to be thinking about insulating everything else in the house and not the floor beneath us. A MAXRaft slab is like having Merino socks and heavy duty boots on your feet! We have underfloor heating in our slab, which is why the insulation is SO key, and it worked out very affordable to run." MF, Builder, Queenstown 2019.
MAXRaft is all about creating comfortable and healthy temperature homes year round through foundation insulation. In fact we offer New Zealand's only fully insulated concrete slab to increase the performance of your home from the ground up.
When building new homes, more and more Kiwis are considering what's really important. When it comes to insulation, comfort, health and ongoing costs figure highly. When you insulate everything else in the house, it makes no sense to ignore the floor beneath you. Which is why it's a good investment spending a little more on an insulated slab to ensure many years of happiness.
With a fully insulated slab, the insulation creates a thermal break between the foundation and the ground around it. This reduces the transfer of energy from the home into the land surrounding the home, ensuring that the surrounding environment doesn't dictate the temperature within your home. If a thermal break isn't created, you could lose the same amount of heat as you would if you left a window open in winter. MAXRaft has a couple of competitors in the market, and they cost roughly the same as MAXRaft but our insulation performance is far superior to provide far greater value for money. This is because their products simply insulate the edges of the slab instead of the entire slab. So what ends up happening if you don't insulate the entire slab is you will often heat the grass around the outside of the slab, which is expensive heat loss. Comparing a MAXRaft slab to a standard concrete slab without insulation will cost approximately 10% more, but you gain through ongoing energy savings whilst creating a much safer and more comfortable living environment.
MAXRaft and underfloor heating are a perfect combination
'MAXRaft slab you can save up to 40% of your running costs'.
When everything is designed correctly, underfloor heating is not expensive. MAXRaft and underfloor heating are a perfect combination because the fully insulated MAXRaft slab will prevent heat loss at the edge of the slab where 80% of slab heat loss occurs. Preventing the heat escaping will mean the underfloor system isn't working as hard and can result in smaller heating units being specified to realise savings in both initial and ongoing running costs. Infact, with a MAXRaft slab you can save up to 40% of your running costs.
MAXRaft delivers three times the building code requirements
MAXRaft's performance is three times the building code requirements and delivers high R-values (which your architect knows is a big deal). R-Value is the measure of resistance to heat flow through the defined material. The higher the R-Value the less heat will transfer through the surface, making the system more energy efficient. Starting a new house build with a fully insulated slab is like adding a battery to the whole house to maintain healthy living temperatures to reduce the risk of poor health, whilst being more comfortable for inhabitants. The added benefit of MAXRaft is you use less energy, so reduce running costs and save money. But you can't beat living in a more comfortable environment.
'
MAXRaft has considered different building environments'
All MAXRaft® fully insulated foundations are designed to ensure that the foundation matches the ground type on site, as well as taking into account all load bearing walls and point loads. And it doesn't matter if you are using a lightweight cladding, exterior bricks or stone cladding, we can come up with a solution for you.
'MAXSLAB® TC1 provides: Increased thermal efficiency. Quick and simple installation. Site-specific engineering. Reliable, proven
construction details Achieves an R Value of approximately R4 according to floor design'.
MAXSLAB® TC1 / GOOD GROUND (INSULATED)
Our standard MAXSlab® 250mm slab is suitable for good ground. The height of the slab can be adjusted to satisfy any onsite requirements. It is based around the following 3 polystyrene components, all of which are installed on a damp proof membrane:
1. Perimeter Footings: Designed to both create a thermal break and bear the weight of your perimeter walls, these footings reduce heat loss from your floor at the point where up to 80% of such loss occurs;
2. Load Bearing Thickenings: Our load bearing thickenings can support load bearing walls within your home while maintaining a complete thermal envelope around your foundation;
3. MAXSlab® Infill: Our infill is a cost effective method of ensuring that your home is properly insulated and a thermal break is maintained throughout. Standard infill is 150mm however this is sometimes adjusted to suit design requirements.
Each of these components combine to give you a foundation with an R value of ~R4 depending on the nature of the design.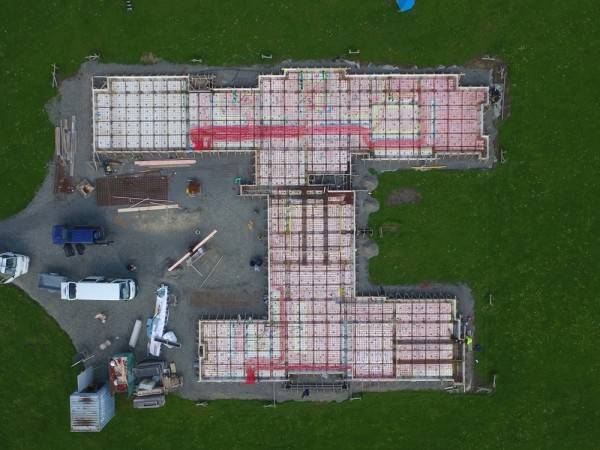 'MAXRAFT® TC2 provides: Suitability for TC2 ground. Increased thermal efficiency. Less time required on site. Site-specific engineering. Reliable, proven construction details. An R Value of ~R4.5 and above according to floor type'.
MAXRAFT® TC2, PILES OR EXPANSIVE SOIL (INSULATED) MAXRaft 320/400mm is engineered to be seismically stronger in earthquake conditions compared to traditional concrete foundations. This is our solution for an insulated slab being built on less stable ground, in particular the TC2 type ground encountered in Christchurch or when moderately or highly expansive soils are encountered. The infill area of the slab is changed somewhat, engineered to provide stiffened ribs throughout the floor with the additional advantage of maintaining a thermal break around the foundation rather than transferring heat directly to the ground between the ribs where it is lost, as is the case with traditional waffle floors. The components in this product combine to give you a foundation with an R value of ~R4.5 depending on the nature of the site.
MAXSpan
MAXSpan delivers the benefits of MAXRaft® to the upper levels of your home. It's suitable for use in multi-storey buildings, above basements or on incline sites. It allows you to use a concrete floor above the foundation which includes these benefits:
— Increased structural integrity
— Improved underfloor heating efficiency
— Reduced noise transfer between rooms.
MAXSpan can be used in conjunction with MAXSlab, MAXRaft and retaining walls.
"In New Zealand we have generally ignored insulating the foundation, contributing to the number of cold and damp homes that we see today. MAXRaft's high R-values and increased thermal performance result in warmer and more cost effective homes. We have increased thermal efficiency and lower running costs, giving everyone the opportunity to live in a warm and healthy environment." MC, Architect, Christchurch 2015
'MAXRaft loves the environment'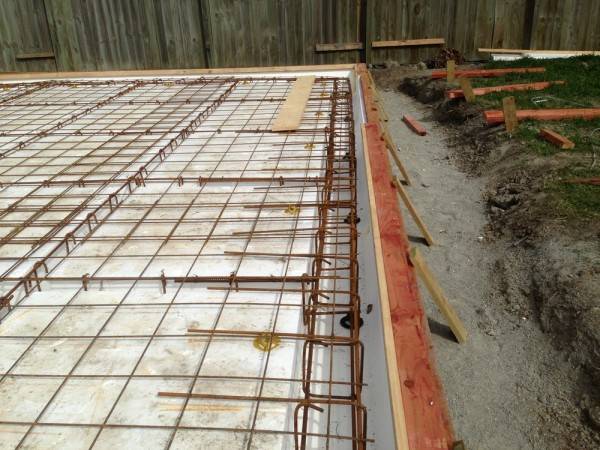 MAXRaft is one of the most efficient ways of prepping a concrete slab than any other system. The polystyrene components are refabricated in the factory and delivered onsite ready to be installed. It gave an R-value of 4.5 which makes any building extremely well insulated from the start.' Evolution, Building company, Queenstown 2014.
MAXRaft® is currently constructed using different grades of New Zealand made CFC-free Expanded Polystyrene (EPS). An environmentally friendly product, and 100% recyclable, EPS has long been used in the construction industry worldwide for providing lightweight, effective insulation. We use polystyrene in the floor to avoid using more concrete. Some people dislike the thought of using polystyrene but it's an ideal material when insulating your home. We manufacture and pre cut everything off site in our factory which means we can control the waste and recycle materials to reduce any impact on the environment
Why choose MAXRaft for your home?
We want all homes to be built in an environmentally friendly and sustainable way
MAXRaft is a high-end product that is the best of its kind. But because we want as many homeowners as possible to experience the benefits of greater thermal efficiencies, we've priced it to make it as affordable as we can; as we've grown so too has our buying power.
Warm, sustainable and healthy living
MAXRaft® slabs are designed to help you live in a home with greater levels of comfort, increased energy efficiency and health benefits for you and your family. A MAXRaft® is like a bathtub of insulation that acts like a thermostat for your home, giving you a comfortable temperature all year round and saving you money on energy bills.
Engineered specifically for your section
All MAXRaft® slabs are designed specifically for the home and the land it sits on. Following the Canterbury and subsequent earthquakes it was clear that foundation design is critical and the most important step in ensuring there is minimal risk to housing. With our independent Codemark certification you can be confident that MAXRaft® ticks all the boxes. Our teams throughout New Zealand install the MAXRaft® slabs, and we also deliver to building sites allowing builders to set their own foundations.
Maximum energy efficiency
As heating costs grow, and the environmental impact of fossil fuel use becomes clearer, using a MAXRaft® insulated foundation is more energy efficient and can save you significant amounts of money on an ongoing basis, all the while reducing your carbon footprint. MAXRaft® insulation provides a complete thermal break between your foundation and the ground around it. This reduces the transfer of energy from your home into your flower beds, allowing you, not the surrounding environment, to dictate the temperature within your home. If a thermal break is not created, you could lose the same amount of heat as leaving a window open in the middle of winter.
Thermal break insulation
MAXRaft® insulation provides a complete thermal break between your foundation and the ground around it. This reduces the transfer of energy from your home into your flower beds, allowing you, not the surrounding environment, to dictate the temperature within your home. If a thermal break is not created, you could lose the same amount of heat as leaving a window open in the middle of winter.
Cost Savings
Using the right insulation, you can save hundreds or thousands of dollars per year off your energy bill. Floor insulation is the easiest and most cost effective way to retain heat in your home. When you combine and insulated floor with in-slab heating, you have the cheapest, most rewarding way to heat your home. Even without underfloor heating, a MAXRaft® insulated concrete foundation can act as a heat sink that regulates the temperature changes in a room allowing you to maintain a consistent, comfortable temperature.
HOMESTAR TM rating
MAXRaft® 's insulating properties have been recognised by Homestar TM who are charged with implementing New Zealand's energy efficiency ratings. MAXRaft®'s fully insulated foundations can help you gain a HomestarTM rating of 6 and above, which is especially important when selling as people become aware of the value of an energy efficient home.
Home comfort
Outside cold can easily travel through a traditional foundation, causing thermal bridging, and creating uncomfortable cold spots within your home. MAXRaft® 's fully insulated foundations offer superior performance when it comes to thermal bridging, resulting in consistent temperatures throughout your home with reduced cold spots to optimise energy efficiency. The additional heat retained in your foundation also reduces the ability of damp to rise at the juncture of wall and foundation. This in turn leads to a warm, comfortable living environment without that damp presence in the air. By allowing the slow release of heat from your foundation, MAXRaft® maintains a balance by ensuring you enjoy that warm, comfortable feeling. It really is a thermostat for your home.
Health
Reducing the heat loss from your home ensures it is warmer, drier & healthier which reduces your exposure to cold and moisture. There has been much study on the triggers for asthma sufferers and it has been proven that a properly insulated, warm, dry home greatly improves the symptoms. Asthma and respiratory diseases are two of the leading causes of sickness and death in New Zealand. 1 in 6 people have a respiratory disease (that's over 700,000 Kiwis), costing the country $6b every year; and 1 in 7 children have asthma. A warm floor is also very important for people with poor circulation, and people who are inactive for long periods of time, as well as children and babies who live closer to the floor, and the elderly who have trouble staying as warm as younger adults.
Excellent aesthetics
Because MAXRaft slabs help the home maintain a healthy temperature, this also ensures it protects the long term integrity of the building by reducing the risk of mould and damp.
Seismic Strength
MAXraft® has been approved for use in Christchurch's TC1 and TC2 zones. It provides the same structural integrity as waffle floors, while providing superior insulation for your home.
Underfloor Heating
80% of heat loss is at the perimeter of the slab, MAXRaft designs will prevent this.
Exposed Concrete Floors
MAXRaft is a must if you are grinding or polishing your concrete floor. The slightly lengthened curing process arising as a result of the MAXRaft® insulation results in a stronger slab. With correct positioning of eaves and windows, an exposed concrete floor with MAXRaft® insulation can act to warm up your home in winter and cool it in summer.
'MAXRaft walks all over normal slabs'
MAXRaft® products surpass all building code requirements, with R-values of approximately R4.5.
Apart from the unbeatable benefit of being a fully insulated product, we manufacture and pre-cut all materials for each property section before they are sent to the building site where everything fits together quickly and efficiently like a jigsaw puzzle. We work closely with architects, engineers and builders and can either handle everything from quote to full design, engineering design to council consent, manufacture, pre-cut to final product install, or prepare everything for your builder to install on site. We offer two main kinds of MAXRaft. The first is for where the ground you are building on is solid and an option when you're building on soft ground. A typical single storey 180m2 home starts from $130 per m2 +GST for an individual build.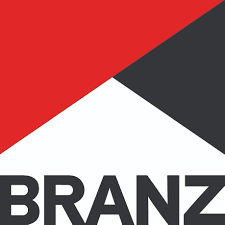 BRANZ Appraised
We want the consent process to be as easy as possible and have been BRANZ Appraised. We combine this with our PS1 and foundation design service to make the consent process an absolute breeze.
'MAXRaft is simply the quickest and most efficient building method for a concrete floor on the market today, let alone its excellent thermal efficiency which is its main advantage. I believe this is the way of the future." David Reid Homes, Building company, Central Otago 2014
Energy Efficiency
Iso-thermal analysis conducted by EZED Ltd in line with ISO 10211 comparing MAXRaft® to a traditional waffle slab show MAXRaft® is significantly warmer, providing comfortable warmth even in the middle of a South Island winter -0°C climates. There are items in construction that are replaceable, unfortunately the slab is not one of them! We encourage everyone to think about the design of their home and structure first, then move on to the "fun stuff". Look at the insulation, living environment and running costs. These areas are where you will find a lot of the benefits moving forward, including the ability to afford more "toys" in future.
For more information or to get a quote, call 0800 003 277 or email quotes@maxraft.co.nz. Visit the website
at
www.maxraft.co.nz