Posted by Builder-Talk on 1st Dec 2020
Enquiries over $1,185,000
: Solar Power (photovoltaic), Electric Car Charging Station, Wood Burner, Vegetable Garden, New Windows & Doors, Insulation, Passive Solar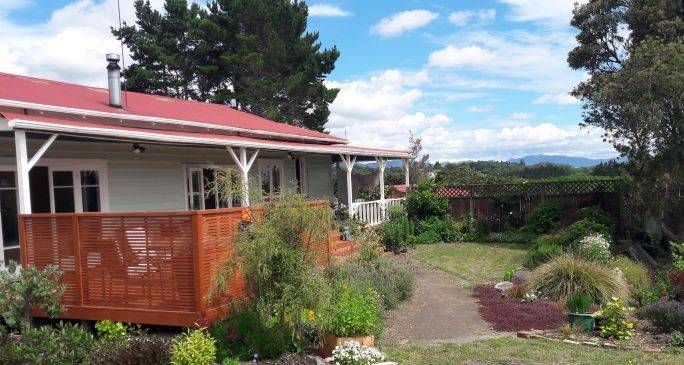 ---
Vegetable Garden
New Windows & Doors
Insulation
Passive Solar
Solar Power (photovoltaic)
Electric Car Charging Station
Wood Burner
---
Location
Rooms
Property Type
Floor Area
Land Area
Price
Parking
137 Ross Rd
Tauranga
Bay of Plenty
5 bedroom(s), 2 bathroom(s)
Lifestyle Block
110m2
4ham2
Enquiries over $1,185,000
3+
The house is a 1930's timber vila fully insulated walls, roof, floor. Matai timber floor boards, 2 french doors facing NE. Large Deck and Verandah facing NE. This house has 3 double bedrooms and a sun room. The largest bedroom has a french door opening up onto a private garden.

2nd Dwelling has one large bedroom and a singe bedroom. It is on a concrete slab with concrete patios facing NE and Nth that passively heat the house. Fully insulated.

Both houses have log burners and wetbacks and both houses are connected to both solar and the grid. Most of the energy comes from Solar.
All houses are surrounded in diversely landscaped gardens incorporating fruit, natives and herbs along with other pollinating attracting plants.

The houses are on Roof water that is supplemented in dry periods by a pump in the properties river. There is a UV filtration system for the drinking water.
There is .7ha of organic blueberries with 9 varieties creating income from late Dec through to late March. There is a nursery and shadehouse currently growing natives and blueberry replacements.

The entire property has fully automated irrigation with extra irrigation points currently not used throughout the property.
There are two medium to large sheds, a 6m caravan with permanent roof and surrounding gardens for privacy, for woofers or extra guests.

A massive grid-tied solar system: 8kW of solar panels optimized on a ground-mount system; 29 kWH batteries
There is an electric car charging station
1 Kubota tractor and mulch mower
---