Posted by Builder-talk on 18th Dec 2020
Selected Features of a Sustainable House
Conservatory for winter heating with shade blinds for summer heat control (passive solar design)

Generous eaves to the north to minimize sun penetration during summer (passive solar design)

Concrete wall to provide thermal mass for heat storage (passive solar design)

Double glazed joinery (to minimise heat loss)

Solar hot water panels to reduce energy consumption

Breathable walls to help control interior condensation

Locally made bricks to minimise embodied energy content

Plantation grown renewable timber

Minimal earthworks by designing the house to follow the contours of the land

Permeable paving to driveway to minimise impermeable areas

Water tank for rainwater collection

On-site wastewater treatment and dispersal (for rural and semi-rural sites)

Surface water from drive to garden for absorption

Grey water recycling (collection and re-use)

Photovoltaic solar panels for electricity generation
Interior: Use of natural (or low VOC) paints, carpet free floors - careful electrical wiring to minimise electromagnetic fields. Modular design dimensions to minimise waste. Roof and wall insulation exceeding minimum requirements. Approved woodburner fireplace with wetback for efficient space and water heating.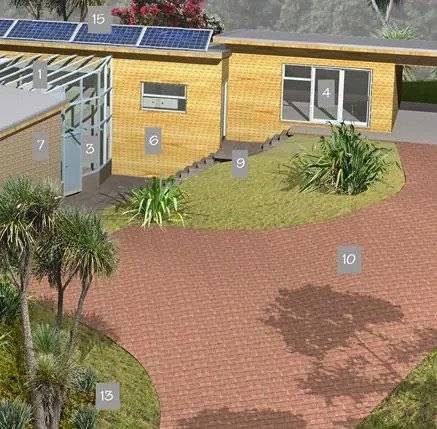 A New Zealand Sustainable Home Example
Future Homes won the 2008 Master Builders DBH Best Sustainability Award less than $500K & Pink Batts Energy Efficiency Awards.
Take a virtual tour of the home;